Brief History of Bar's Leaks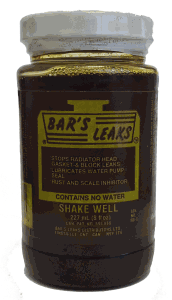 In 1947, Mr. Fred Barton (1907-1975), founder of Bar's Leaks, discovered the stop leak solution during the height of the classic and sports car era. Barton's success and his rise from "rags to riches" have been featured in many national and international publications, including a cover story in the Wall Street Journal. His legacy continues in "do-it-yourself" households and mechanic shops around the world.
Back then, the Bar's Leaks yellow logo became the symbol for extending the life of your car without "breaking the bank." The easy "pour-in" solution was a formulated soluble sold in a glass jar. The product labels read "lasting water pump seal lubricant," "scale and rust resistor," "block and radiator repair," and "absolutely no seepage."

In 1958, the USS Nautilus, the world's first nuclear powered submarine, made its historic journey and ran into a major system failure which threatened the entire mission. The crew of the Nautilus determined there was a leak in the Nuclear Submarine Condensing System. The Commander sent his crew into Seattle wearing civilian clothing in order to buy several jars of "that stuff you pour into automobile radiators to stop leaks." After introducing Bar's Leaks into the condenser system of the USS Nautilus, the leak was stopped. The mission was saved!
Today Bar's Leaks is sold around the globe including OEM, factory installed new vehicles made in the USA and Internationally, including General Motors, Ford, Chrysler, and Subaru. Bar's Leaks is the most widely used and trusted stop leak and rust inhibitor in the world.
Raising the Bar's Globally
Bar's Products Europe is the licensee of Bar's Products International. We work closely with international partners to deliver the best quality automotive products across the EMEA (Europe, Middle East, and Africa).
Our goal at Bar's Products Europe is simple: excellent product quality and customer service. We accomplish this with our established values developed over 70 years and partnering with international distributors that have the finest reputation for quality and service. We don't believe in taking shortcuts, we believe that our goals are accomplished only with a real commitment to our product and customers.
Bar's Products Europe provides specially formulated products for the entire lifetime of your car. Whether you are looking for preventative care or quick pour-in solution, you can keep your vehicle running smoothly with Bar's.